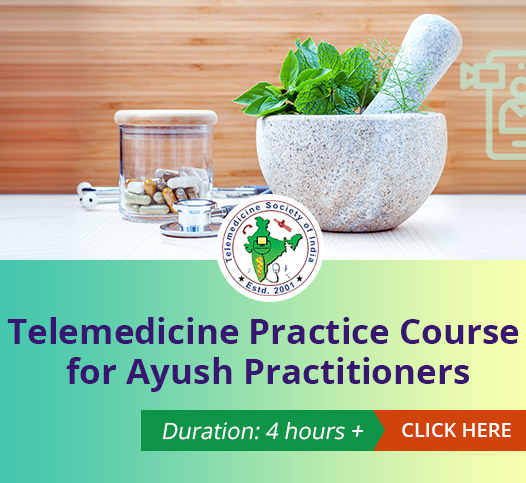 Register
AYUSH INTRODUCTION PAGE
Digital health policy promotes the use of digital tools to enhance the efficiency and outcomes of the healthcare system. One key aspect of this policy is the emphasis on telemedicine services, particularly in grassroots health and wellness centers. These centers aim to connect patients with doctors through technology platforms, facilitated by mid-level healthcare providers or workers. This ensures that patients receive timely and optimal care.
However, the lack of clear guidelines has created confusion among registered medical professionals in the AYUSH systems, hindering the practice of telemedicine. To address this issue, an online foundation course called the "Telemedicine Practice Course for Ayush Practitioners" has been created. This course is a significant step towards regulating telemedicine practices within the AYUSH systems. Its main objective is to equip AYUSH practitioners with the necessary knowledge and skills to effectively utilize telemedicine tools. The course offers online classes, study materials, and interactive sessions with experts.
The AYUSH Telemedicine Practice Course has been designed by experienced professionals who have been practicing telemedicine for many years and are members from technology and heath societies like the Telemedicine Society of India, Medical Computer Society and technology platform like Medindia and Doctorguru. It adheres to the compliance standards outlined in the "Telemedicine Practice Guidelines for Ayurveda, Siddha, and Unani Practitioners" released by the Central Council of Indian Medicine, Government of India.
These guidelines provide practical advice to AYUSH registered medical practitioners, encouraging them to incorporate telemedicine into their regular practice. The faculty of the course have already trained over 7,500 allopathic doctors through online live course delivery and interaction and have received excellent feedback.
If interested in taking the course, please register for the course. The course will include live interactions with faculty members, after a certain number of participants register for such an interaction. The live interaction provides an opportunity to clarify any doubts or questions you may have regarding telemedicine guidelines.
Target audience
: Registered (Ayurveda, Yunani, Siddha, Homeopathy) Medical Practitioner (RMP or AYUSH RMP)
Online Platform
: MOODLE
Webinar Delivery-Via Online Platform
AYUSH COURSE STRUCTURE
Pre-Course Assessment- 30 min- Compulsory
An Introductory Primer to Telemedicine



Terminology used in Telemedicine (Compulsory) -30min
Acronyms used in the course -10min
Ministry of AYUSH - General Information -20min


Power Point Presentation



Ministry of AYUSH - General information -20min
Telemedicine Practice Guidelines for Ayurveda, Siddha and Unani RMP -40min



Legal & Ethical Aspects of Telemedicine for Ayush



TELEMEDICINE PRACTICE GUIDELINES for Ayurveda, Siddha and Unani
Practitioners by the Central government -60 min
Homeopathy Guidelines for AYUSH practitioners -45 min


Power Point Presentation



PPT on TPG for Ayurveda, Siddha and Unani Practitioners-30 min
Telemedicine Practice Guidelines for AYUSH practitioners – 40 min


Video Module



Basics of Telemedicine practice guidelines Interactive Content-50min



Setting up a Telemedicine Practice for Ayush

Power Point Presentation



Telemedicine - Triggers, Etiquettes & Tips -30 min


Video Module



How to set up a Telehealth Consultation (Compulsory) -20 min



Optional Reading



IT ACTS
IT Act 2008 Amendment File
Indian IT Act 2000File
Data Privacy Act - Europe / India - Draft Act
Europe data protection Act File
Draft Personal Data Protection Bill 2018 [India]



Post assessment - 45 min
Feedback - Compulsary
Attendance and Proficiency Certificate
Duration
: The course would take a total of 4 to 6 hours to complete and you can do it at your own pace.
Once you finish a section do check the box on the right hand side.
The reading material will require 4 to 6 hours of your time and will provide all the essential information for safe practice of telemedicine.
The login and password will be available to you for a period of one year from date of registration and payment and there are no limits to your viewing the course.
Assessment
: There are pre-course and post course assessments. Each question can be attempted only once.
Certification of Participation or Certificate of Proficiency: After completion of the course, including faculty interaction you may take the assessment, after which depending on the performance you will get either the Certification of Participation or Certificate of Proficiency.
Register